Aside from two blocks this week, I haven't actually done any sewing for
Live Laugh Bee
in a little bit. All caught up, if you can believe it! (Well, sort of. More on that in a moment.) I just never got around to posting pictures.
Here's what's been going on:
Kelly requested confetti blocks. I LOVE the blue fabrics that she picked out. Blue, black and teensy little bits of gold in some of the prints. Very pretty. And she's planning to quilt with sashiko stitching, which should be gorgeous.
My second block came out a tad small. I ran out of white fabric and couldn't find any in the right weight to sub in. She requested that we just send small blocks if that happened.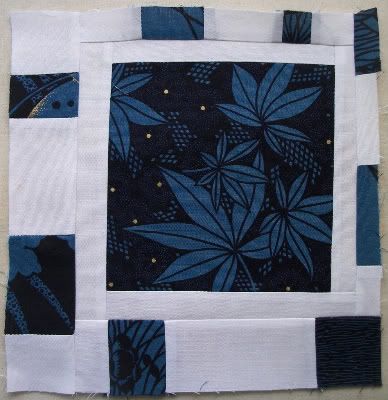 Then Sarah requested wonky log cabin blocks. I think wonky log cabins are my all time favorite. Super easy to put together, lots of fun to put together, and I always love the way they look. Sarah sent a TON of fun batiks to choose from, too.
Of course, as soon as I finished Sarah's blocks I realized that I had done them wrong.
*headdesk*
She wanted then wonky, but with traditional styling. You'll note that I intermixed the blues and greens instead of putting blues together on one side and greens together on the other. Gah. Lucky for me, these will be simple enough to rip apart and put back together properly. Also lucky that she sent so much fabric in case I need to add a little more. She also said that we could add some of our own fabrics if we have any that tie in, and I know I have some blue and green batik.
Ursula's blocks, for October, have been so much fun. She sent out the same fabrics that I have waiting to turn into my nephew's quilt. She requested flying geese blocks for a little boy's quilt. It was so much fun getting to play with these fabrics and seeing how they look with the various solid colors (which I still have to choose for my project) before I've cut into my fabric.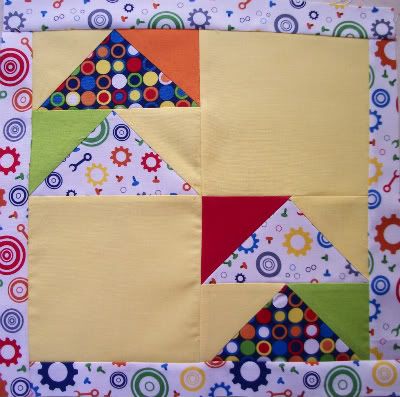 The other blocks turning up in the flickr group look great. I can't wait to see how she puts them all together!