(First, I know...I totally dropped the ball on NaBloPoMo. But that's not the point of this post.)
Because I don't have *quite* enough on my plate, I decided awhile back that I REALLY wanted to take part in the
Scrappy Mug Rug Swap
. I watched the last round come to close, drooling over all of the terribly creative and oh-so-cute things that people thought up and I HAD to get my name on the list for the holiday/everyday round!
This is a blind swap, so I know who I'm making for (though I can't say yet!), but not who's making one for me. Very exciting!
I was lucky to be somewhat familiar with the photostream of the person who's name I was given. Not saying any more than that so that I don't drop too many clues, but I was at least vaguely familiar with some of what she's done recently. It was kind of cool to see that I'd drawn her name. :) And the questionnaire thing we filled out gave me some ideas that I probably wouldn't have come up with strictly from looking at her photostream.
After a bit of thought, I knew which fabrics I wanted to use, but hadn't entirely settled on an idea. Tonight, I cut into the fabrics with a plan in mind...and then watched the mug rug take shape on it's own. It's totally not what I had initially planned to make, but it just came together so nicely that I ran with it.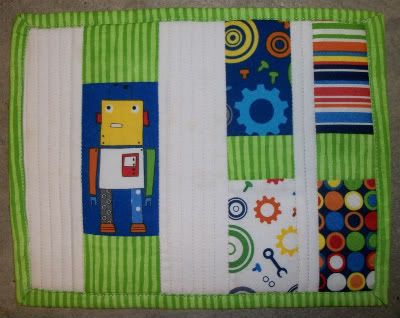 Given the green stripy fabric, straight line quilting seemed the best fit. I did a stitch-in-the-ditch at the edge of each white strip and then eyeballed the interior stitching lines so that they wouldn't be quite even. It seemed like a good idea since the green stripes and the robot are both a little bit wonky and not-straight. It's backed and self-bound in the green fabric. My initial plan was to hand stitch the binding in place, but I kind of liked the idea of visible, light stitching. Doing it by machine kept the stitches even and, I hope, seem a little more "robotic".
Or maybe I'm just talking out my ear.
At any rate, I'm pleased with how the mug rug turned out and I hope that my partner likes it, too. We still have a few days before it has to be in the mail and I'm contemplating a holiday themed mug rug as well. (She didn't specify one way or the other.) I've got an idea for that one too, but the way this one took off on it's own, I'll have to see what happens when I start working with the fabric...
(This mug rug finished at 7 1/4 by 9 1/4 inches.)