(I really will get back to posting on other topics soon. Honest.)
We hit up the farmer's market this afternoon as a family. It was nice to have Richard with us, and he seemed to have a good time. We indulged Bug's honey obsession, though it was difficult to pick which flavor to buy. He got a few honey sticks as usual, including an acid green sour apple flavored one. I don't even want to *think* about what's in it to turn it that shade of green. It was a one time thing though, and he didn't eat that much of it, so I'm just going to let it slide.
For the bigger jar, after a taste test we decided to bring home the desert wildflower honey. I want to say it's from prickly pear, palo verde and chrysanthemum, but I might be making that up. Richard was really, really fond of the mesquite, but Bug and I kind of liked the desert wildflower a little bit more, so... We'll get mesquite next time.
We also picked up a really beautiful honey dipper. Walnut, I think. (I'm not looking at the tag and the screaming baby in my lap is keeping me from looking for it.)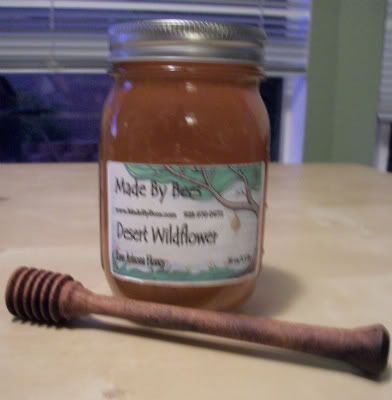 Ooo. We also bought a super yummy chimichurri. No idea what we're doing with it yet - though I'm thinking that it might involve the french bread and goat cheese from the last few markets.