There's been a TON going on with the move, but I've managed to do a bit of sewing, too. (Thanks to Mom for letting me take over the dining area as a sewing nook! It's fabulous!)
I've gotten some sewing done for the
store
, but nothing finished to the point that I want to show it off just yet. Soon, soon.
I've also finished Susan's blocks for the
Live, Laugh, Bee
. She picked the prettiest fabrics - from the Modern Meadow collection by Joel Dewberry. I've ogled these online for awhile, but it was really cool to get to see them in person!
Susan gave us free reign on the blocks, asking only that we feature one of two specific fabrics. I got the pretty dogwood fabric in my bundle and had a lot of fun figuring out how to work the blocks around it.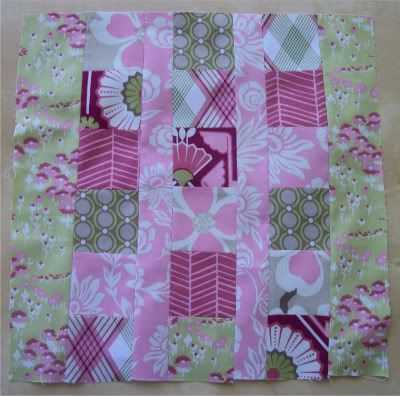 I love all of the natural light in the area that I've taken over, but I've learned that if I photograph too near the window, the colors kind of wash out. This block is much more vibrant in real life, though the colors as a whole are still pretty soft.
For the second block, I aimed for a slightly bolder look. (Accentuated by different lighting in the photo, oddly.)
Aiming for some good finishes this week. :)