It's official - the sashiko towels are done!
Here's the set all together: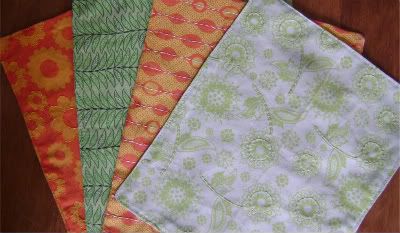 And a detail to show some of the stitch work: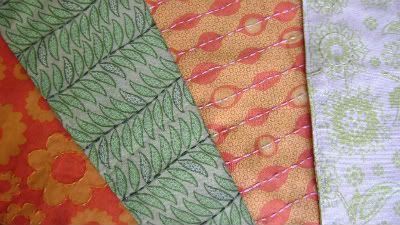 I will admit that the stitch work did not improve as much as I had hoped between the beginning and the end of this project. I suppose that's what comes of trying to do hand stitching in the car (while parked!), in bad lighting and with a squirmy toddler on your lap. I DID notice a marked improvement in stitching speed, though and yay for that.
After I finished the towels last night, I caught up with the embroidery on my LITJ quilt blocks and it went SO much faster! Seriously, when the swap started it was taking me as long to embroider the four letters of my name as it had to prep, cut and sew the blocks together. Insane.
And today was mailing day! YAY! I didn't realize just how much I was worried about getting things into the mail until everything was sent off and I felt physically lighter. :)
All of the past-due LITJ blocks have gone out. The next three are sewn, embroidered and waiting for their mailing days. Two left to sew and I'm all done there. I'll be sad to see the project end, but it'll be exciting watching as the quilt-building phase takes place!
I also sent out my fabric for the
Sew, Mama, Sew fat quarter swap
. Pictures taken, but I'll wait a few days for the fabric to reach it's destination(s) before posting those. And I got Sandi's block for the
Quilt Block Swap
into the mail. Whew!
Next up? Kelly's postholders for the
Stitch in Dye
swap, two more LITJ blocks for Carrie and Paula, and perhaps I'll dredge up some previously abandoned projects. I've got some pretty linen kitchen towels that are close to being done, a little project for my grandmother and, if I can find my flannel stash, maybe I can finish Bug's quilt and make some wipes for Boo. Hmm....