Mrm...so much for cleaning the house. Bug just went down for his nap and I'm running out of steam. So I'll post about an exciting project and then go join him. I'm allowed to nap at will while growing another person, right?
Awhile ago, a parenting group that I'm a part of did a craft swap. It was awesome. Roughly each month (I think it was a five week cycle, actually), we had a different theme and crafted for someone specific within that theme. It was awesome. Truly. It was really amazing to see the love that we had for one another flourish into tangible expressions of friendship. I was particularly amazed to see how people who didn't consider themselves to be crafty or artistic came up with some of the most amazing (and beautiful!) projects. And, within the framework of the friendships we'd built, a lot of people really stepped outside of their comfort zones to create some impressive tokens.
Life being what it is and some downtime to the website kind of put an end to the craft swap. It has recently been reborn though (yay!) - though this time it's been designed as a quilt block swap. Aside from a few people who have some experience with quilting, the rest of us are new to it. I've done a psuedo-quilt or three, but never attempted an actual, honest-to-goodness quilt. It was more than a little terrifying to add my name to the list, but I love these women and knew that it would be an awesome experience, so I did.
Unlike a more traditional block swap, which usually has a deadline of one block per month, we're focusing on one member per week. Our first mail-out day was February 25, and we will wrap up on June 3. Keeping in mind that my hands ended up terribly swollen and I was unable to sew (or hold a pen or tie my shoes or much of anything else) during the last half of my pregnancy with Bug, I've tried to get ahead of the game with my sewing. We have a list of who we're focusing on by week and what their likes/dislikes are, so I've been able to get ahead on my blocks.
This week, we mailed out our sixth blocks. The pictures that people have been posting are very inspiring. Already, confidence is building and - as a group - we're pushing ourselves to work outside of our comfort zones and try new things. These are going to be some beautiful quilts when they're done!
With the concern of swollen hands, I opted not to create a new block for everyone. Instead, I spent some time designing one block that I feel expresses my love for the group as a whole and have been choosing fabrics, colors, etc each week based on the recipients personality and requests. So far everyone seems to be happy with their blocks and I've been able to sew through our mid-May deadline. I have three blocks left and I'll be done with the block construction. (Oddly, embroidering my initials on the blocks has what's been the toughest for me.)
So, anyway. Here are the blocks that I've created so far. (Clickable thumbnails as I'm still having issues with resizing photos.)
Laura's week was first and my camera was still in Arizona, so I don't have a picture of the very first quilt block.
This one went to Amanda D: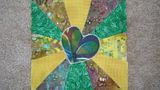 Trinity: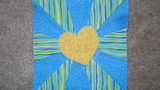 Karo: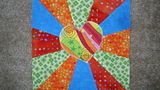 Tiffany:
Micael: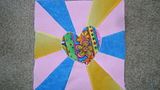 (Note that these pictures were taken before the blocks were trimmed or embroidered.)
Coming up next, will be...
Ella:
B: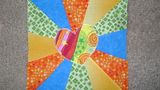 Jen: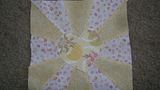 Colette:
Jenn: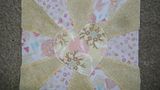 I have fabric chosen for Amanda L, Carrie and Paula, but haven't gotten the blocks done yet. Soon. Soooooon.
This week, I felt the need to pause and create something for myself. Mostly because my purse - a hardworking little canvas bag - was on it's last leg.
It came together quickly, thank goodness. I chose and washed the fabric one day, prepped, patterned and cut the next morning and, that afternoon when Bug came home from school, we stitched it together. (He's getting to be a really good little sewing helper. Have I twisted him at all, do you think? How many just-turned-two-year-olds come home from school and ask to sew?)
It's not perfect and there are things that I'll change when I make the next one, but overall I'm quite pleased with how it turned out.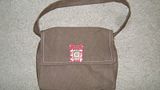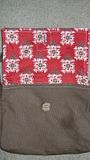 And that's all for now, folks. I'm going to go snuggle up to Bug and try to get in a decent nap.