In this last little burst of sewing, I've gotten a few new skirts in the store. (They're listed at both
froglovesmonkey.com
and on
Etsy
.)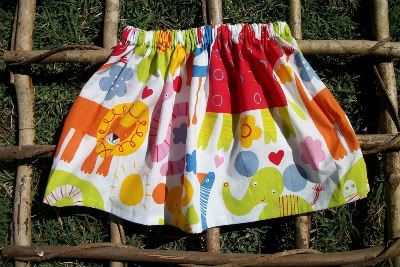 I love this Barnslig print from Ikea. LOVE it.
Every time I think I've decided which part of the print I love the most, I move my eyes and land on another bit that makes me happy and THAT'S my favorite bit. (The lion! No...the elephant! Wait. Is that a giraffe? I love the giraffe!) I am pretty partial to that lion, though. ;)
I've only listed skirts in a few girl's sizes, but have plenty of fabric in case anyone needs a different size.
I'm tempted to make another mei tai out of it, too. I so love Boo's.