So, we did make some bracelets for the
Craft Hope
project back over Memorial Day weekend. Given that we were working with three fairly little kids, it actually went really well.
The five year old made one bracelet to keep for himself, and then decided that he'd rather do other things. The two three year olds were all over making bracelets, though. My niece made quite a few, all with certain friends in mind, so ended up taking all of hers home. Bug decided that he wanted to make a few for specific people, one for himself, for me and his uncle, and the rest went into pile to mail. So, mostly my sister and I made bracelets for Craft Hope. The kids did seem to think it was a really neat idea though. They asked lots of questions about "the kids who don't have stuff" and Bug wants to know who - exactly - will be getting the bracelets that he made.
We ended up with 24 to put into the mail.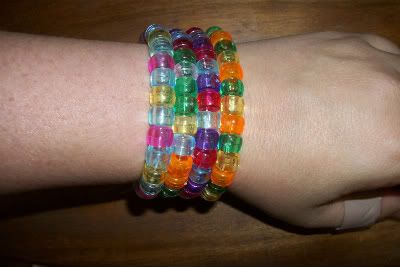 We all worked on the big pony bead bracelets.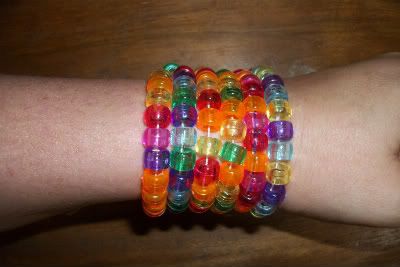 It was fun watching the little kids pick out their favorite colors and color combinations. And trying to make nice looking bracelets with combinations of colors that the little ones weren't picking for themselves.
These smiley face beads were fun, but the holes were too little to work with the big not-sharp needles that the three year olds were using, so I ended up putting these two together after bedtime.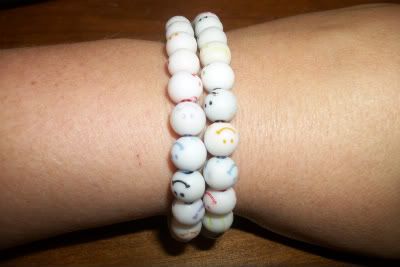 And I love these. I may have to go back and make myself one or two like this with the beads that I have left.
I'm looking forward to seeing the recap at Craft Hope. It sounds like a LOT of people have been sending in a LOT of bracelets.