I got involved in the Mug Rug swap on flickr just in time for round two. (And I'll have to look back to see just what I've posted about that...) I didn't really need another hobby, but I think I might be hooked. They're great. Tiny little quilts, big enough for a beverage and a snack. Relatively quick to put together, small enough that you can experiment and they have the potential to be stinkin' cute.
...so I'm still going with the swap. ;)
This is a blind swap, so I'm not at liberty to name my partner just yet. Soon. For now, I'll say that I was a little bit stumped on what to do for her. She gave some really great information and I didn't expect to get stuck, but I did. I latched on to her love of "kitschy" and decided to run with it...only, how exactly would SHE define the word? I did some flickr stalking and fabric eyeballing, and ended up with this selection:
(Warning: crappy night time cell phone photos ahead!)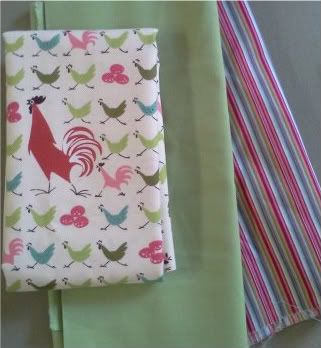 The Alexander Henry chicken fabric was something that I came across at Joanne's and didn't even realize what it was. But it tickled me, so I abandoned my previous kitschy idea and let the rooster lead.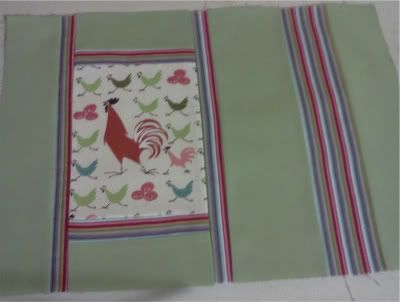 I was pleased. Sort of.
I posted the pictures as a sneak peek to the group (which is suggested). It was well received. But it just didn't feel quite right for it's intended owner. I stalked some more. I eyeballed some more. I went back to my original plan (and ended up with another Alexander-Henry-found-at-Joanne's fabric), and then abandoned it again.
I settled on bunting. Because it's kind of fun, the design appeared very clearly in my head and (most importantly), my partner says she likes bunting.
I posted another sneak peek.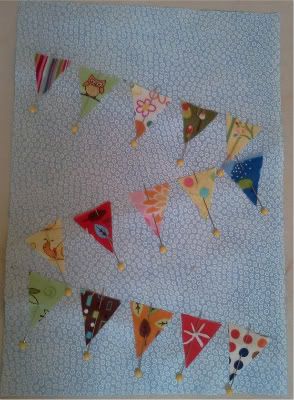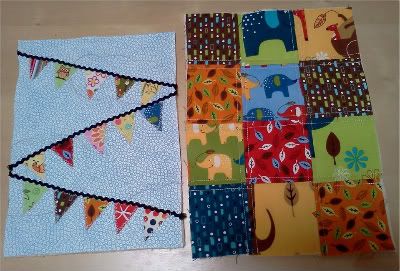 These photos were also well received. And I have it on good authority that the person I'm making this for will be pleased. So I'm ecstatic.
My original binding plan (polka dots) really, really, really didn't work out. WAY too busy. So I settled on black. I think it frames it nicely.
It's kind of hard to tell in the photo, but I've quilted the front with big fluffy clouds. It seemed to fit. :)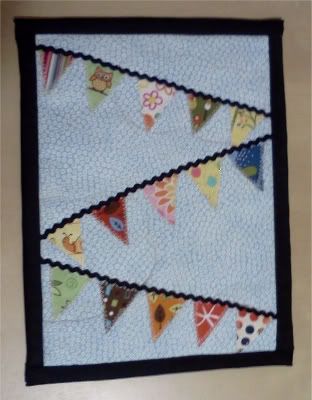 The back is quilted separately, straight lines. I didn't figure I could go wrong with a little straight line quilting. And I totally stole the tagging idea from some of the other swappers. Had a stamp made up and heat set the ink on twill tape. Brilliant. Tagging is normally pretty stressful, but I love this. It's easy-peasy, and I think it's super cute, too.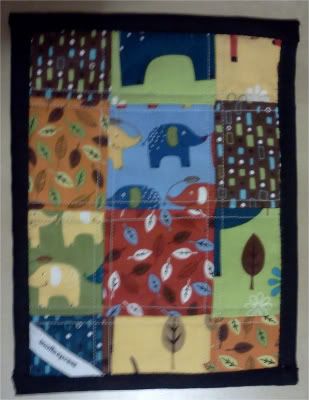 And, this time, I've gathered a few things to round out the package. In addition to the mug rug - which I hope she enjoys! - I'm sending a mug, some teas in flavors that her profile suggests that she'll enjoy, a tin of sentimental candies and an Arizona-themed postcard. Can't wait to see what she thinks of it!