In addition to the sunflowers, Mom's garden has already started producing a fairly nice bounty. She's collecting a good number of tomatoes, zucchini and squash daily. The radishes are ready too, though I'm really the only one who seems to be eating them - and I've learned to like them only because Bug enjoys picking them so much.
It's been a lot of fun to go over every day and help to pick the ripe veggies. And even more fun to take them inside and immediately turn them into lunch.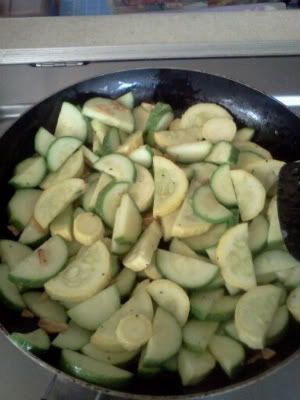 We also picked and cooked a number of the radishes, though I forgot to take a picture of them. I was pleased to discover that cooking radishes mellows them quite a bit. First attempt was tasty, though a bit bland. I'm looking forward to experimenting now.
And, even though they're not
quite
ready yet, Mom let Bug pick a couple of carrots. We all agreed that they were quite tasty.