(I haven't forgotten about announcing secondary winners for the SMS giveaway. Promise.)
Once upon a time, I was involved in a fun quilting bee. Life happened and I fell behind. I caught up again. But I TOTALLY FORGOT that January was my month to send out fabric. D'oh. I scrambled to get some fabric ordered, but by the time it all arrived it was a little late to get stuff out. We talked about pushing me back in the lineup and the way life worked out, I kind of slipped out of the bee. (As far as I know there were no hard feelings.)
After much debate, I'd determined to send out fabric for Richard's quilt. He picked out the fabric and we talked about what he was looking for in a quilt. He decided on a wonky square-in-a-square.
But then there wasn't a bee to send it out to, so the fabrics just kind of been hanging out...
Reopeneing my
store
and gearing up for Giveaway Day had me all crafty and wanting to be productive. So I pulled out Richard's fabric and decided to start working on that.
I cut strips of fabric.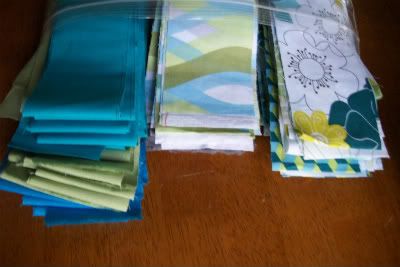 And then I started to sew... I was able to get three done the first day, and three the next afternoon. They were going fairly quickly and I'd hoped to get a few more finished, but the three year old had other plans.