I have SO much to post about - with pictures! - but have been having trouble finding enough spare time to blog it all. This one's just going to be a quickie, so that I can get the goal out there.
I'm taking part in the
Kid's Clothes Week Challenge
, from
Elsie Marley's blog
.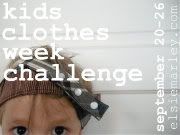 Let's see what I can get wrapped up for the kiddos!