Earlier this week, we finally (finally, finally, finally!) got enough of a rain for it to cool down a bit in the evening. So we took the opportunity to head out into our poor, deserted yard for awhile. I dug out the last bit of my sun-cooked summer garden failure, Richard and Bug picked up random bits of junk from the yard, and Boo bee-lined to her favorite - the rocks.
She was having so much fun shoveling them that I tried to get a picture that captured her joy.
At first, she kept looking way over my head and past me whenever I called her name.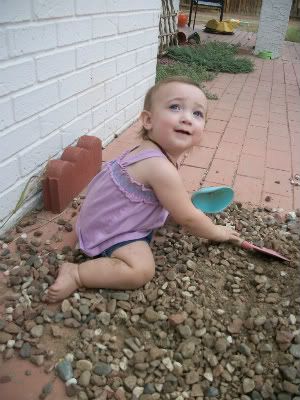 And giving me this weird fake-baby half-smile. I don't think I've ever seen this expression outside of this series of pictures.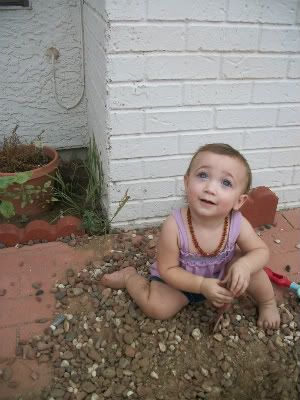 And then she started talking to me, presumably about what she was working on. Boo is very vocal, just not so verbal, yet. (And someday she's going to hate me for taking this picture.)
And then she just ignored me and went about her work.
Bug was having fun, too, looking at how metal shavings behaved on a magnet.