A couple of days ago, Bug asked to bake bread. And then proceeded to do it by himself. I measured out the ingredients for him, but he did the rest all bu himself - choosing the recipe, getting everything ready to go, and watching and questioning the entire process. (We used a bread machine, though might do it by hand next time.) He even told me that baking bread was "more fun than watching tv" - high praise!
Terrible photography aside, the bread turned out great! It was SUPER yummy! He was so very proud of himself. :) (And I'm super proud of him, too!)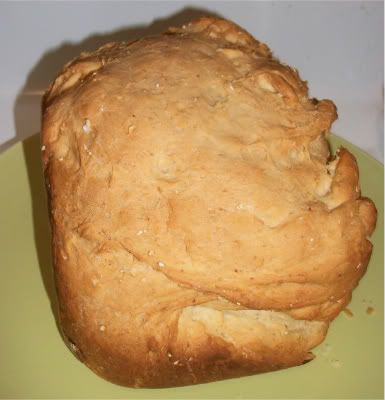 We devoured the first loaf of bread pretty much immediately, so he asked to bake another loaf. So my 3.5 year old baked two loaves of bread in one day. I can see us making this an addition to our daily non-routine.
The recipe we used:
1 cup water
1/4 cup honey
2 tablespoons oil
1 cup flour
1/2 cup oatmeal
1 teaspoon salt
2 teaspoons yeast
It turned out so light and fluffy and tasty. Mmm...bread...