A few things to show off today. Mostly because I did so much actual work on the computer today that my brain feels scrambled. I had to pull out some stuff I could actually TOUCH. ;)
First, some goodies from the
Sew, Mama, Sew!
fat quarter swap. I've received three of the four fat quarters and just can't stand not showing them off. :)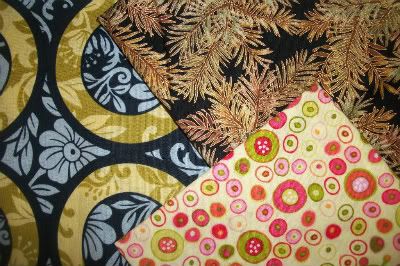 Aren't they pretty? I'm hard pressed to pick a favorite. Thank you, ladies!!
This is the fabric that I sent out. I hope my swap partners liked it.
I'm thinking that, just maybe, I've got a bit of a thing for bird fabric right now...
And speaking of. I got the last of the print fabric that I need for the bedroom quilt!
I got more of "Birds" in brown and and "Blowing Leaves" in neutral from
BratPacks
. I was so happy with how quickly the last order came (and her good prices!) that I couldn't resist ordering from her again. (These are, of course, from Studio E's "Nature.ology" collection.)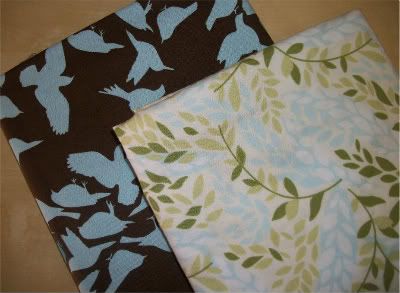 And then I picked up "Feather Swirl" in brown and "Nature Weave" in turquoise from
Creative Quilt Kits
. I was really happy with their pricing, communication and prompt delivery. I'll definitely keep the site bookmarked for future reference.
I have to admit that I expected the "Nature Weave" print to be much more blue than it actually is in real life. Every photo that I saw online looked very, very blue. And when I pulled it out of the envelope it was most definitely much more green. But Richard says he likes it (I was trying to work more blue into the quilt because it's his favorite color), so I guess it's all good. It IS a pretty fabric.
This afternoon, I pulled out ALL of the prints and got them cut into fat quarters.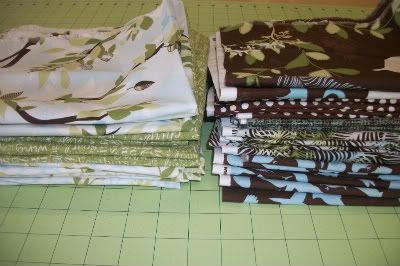 They still need to be pressed (again) and sorted, but I feel like I accomplished something by getting them cut.
Next step: picking the solid colors for the quilt top. I'm waffling. I need four yards each of neutral and contrasting colors, and I'm having a hard time deciding which colors to choose. Cream and pale blue as neutrals? Maybe brown instead of blue? Just cream as the neutral and call brown, blue (two shades?) and green the contrasting colors?
...Too many options for this afternoon.
I'll play with the fabric a little more. Sort the prints into pair combinations that I like. Stare at them a little while. It'll come to me.
Oh! Bonus photo!
Bug insisted on taking pictures when I was done. He got a nice version on his standard self-portrait.