This morning, we made soap.
A little backstory:
Some years ago, I was obsessed with making candles. In the midst of melting things and trying to clean up after having not used the proper tools, I thought that perhaps soap might be a better option. I went to the craft store, picked up whatever melt-and-pour soap base, bought some cutsie soap molds and added food coloring or crayon or whatever and made soap. They were kind of cute in a bowl by our bathroom sink and served their purpose well enough.
The two pounds of soap base made up a gajillion little novelty-sized soaps and it took us quite awhile to work through them all. We never used them as bath soaps and I didn't make any more when we finally ran out.
Cut to last year, when we really started paying attention to the stuff we put into and on our bodies. Thanks to asthma, I have a lot of trouble with synthetic fragrances and that cuts out a lot of store-bought soaps right off the bat. The decision to cut SLS from everything we brought into the house nixed just about everything else.
I did find a really awesome sandlewood soap, but the only place I've seen it is a tiny Indian grocers on the far side of town. And, well, an hour is a hecka long drive for a .59 bar of soap.
R asked why I didn't just make us some soap, since it was something I knew how to do. I hadn't realized that he'd actually
liked
the soaps I'd made before...
But once the bug was in my ear, I was all for it. I went to the craft store only to discover that the melt-and-pour soap bases I can get locally is pretty crappy stuff. All of the good stuff has been skimmed out and chemicals put in instead. Yuck.
An exhaustive web search led my to Wisteria Lane. I love that they not only discose
everything
that's in their soap bases, but they also have a ton of options, good prices and are really easy to work with.
My first go, I ordered hemp oil and goat's milk bases. We loved them so much that I immediately ordered more of both the hemp oil and goat's milk, and tried the cococa butter and olive oil bases, too. Those four bases gave me six soaps that I fell in love with.
I sold some on Etsy and gave a bunch away as gifts. Feedback has been overwhelmingly positive. Oddly, my favorite of all the soaps (hemp oil with white tea and lemongrass) has been the only one other people didn't care for. The exfoliant is too big.
Anyway.
After Christmas gift-giving, we were down to one bar of my soap and a few small bars of store-bought 'natural' soaps. I was good and used the store-bought stuff, but my skin regrets it. My face is broken out and my knees and elbows are all dry and scaley. Gross. I was
really
excited to order more stuff from Wisteria Lane, and was thrilled that it arrived last night. (UPS makes deliveries after 8pm - who knew?)
So, this morning, we made soap.
I had one pound of hemp oil base, so I made the hemp oil with white tea and lemongrass. With the large exfoliant, since it's for us. And I tried a new base, the exfoliating nuts and cream. Oh my goodness... The nut base has such a light yummy scent and felt so good in my hand. I decided to make it a honey soap, which gave it a really nice pale caramel coloring. It looked and smelled so good, I wanted to
eat
it.
I ended up pouring both soaps 'hot', so that most of the exfoliant drops out of suspension into it's own layer. I'm fond of them that way.
Honey nut soap in the pan: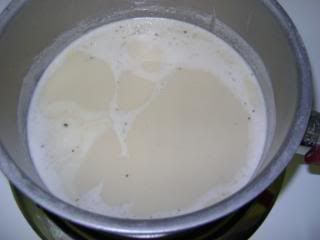 Hemp soap in the pan: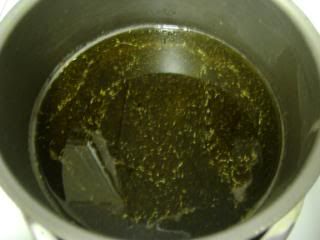 Setting: (The muffin pan makes for a soap that fits nicely in the hand.)
Finished soaps: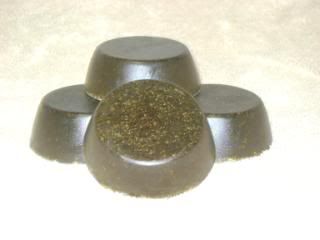 http://froglovesmonkey.etsy.com
http://www.wisterialane.com/
- Kiza